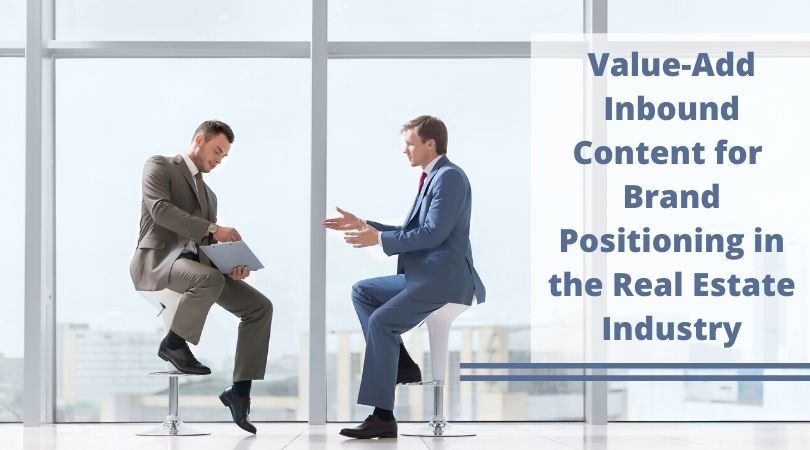 What does your brand represent?
A brand embodies your values and attitudes toward your product and customers – and your prospects' perceptions.
Your approach to marketing positions your brand as a provider of knowledge, value, and solutions – and has a direct bearing on your ability to attract and convert prospects to clients.
Let's get into the 'whys' and 'hows' of improving your brand position through compelling inbound content for your marketing channels in the real estate industry.
Why Inbound Content for the Real Estate Industry?
While there are many ways to connect with your target market, inbound marketing is the most effective and does the most to support your credibility – and generate value.
If your brand were real property, inbound marketing and thought leadership would be your value-add strategies to enhance amenities, optimize expenses, and drive NOI.
Traditional outbound methods such as broadcast, print, cold email, and pay-per-click (conventional by current inbound best practices) may get your message to the public; however, they don't provide your ideal prospects with substance. Outbound marketing provides linear (and often diminishing returns), while inbound strategies are logarithmic in generating increasing returns.
Inbound strategies bring the leads to you and uniquely position you as a credible provider. Outbound strategies convey neediness that doesn't command the respect of prospects and doesn't prompt them to contact you in appreciation of your insights.
For lean marketers (I'm not talking about your figure) – which is everyone in the current market – inbound content marketing is far less expensive. Though a sophisticated, credible piece of content, such as a whitepaper or contributor article, may require time and expense, it provides a one-time expenditure with continuous and increasing returns (with consistent promotion to your web and social channels supported by video).
Effective Real Estate Brand Positioning via TL
The essence of effective brand positioning is thought leadership (TL) via the inbound channels your prospects frequent.
'Thought Leadership' is an oft bandied about catchword; however, it's an aptly named strategy that builds brand value and status through the most valuable asset – knowledge. TL also projects authenticity and transparency – 94% of consumers are loyal to companies with transparent practices, and 91% prefer authentic brands.
While many perceive competition as intense in the real estate and related industries, it's relatively straightforward to differentiate yourself through TL and inbound content marketing. Surprisingly, the majority of firms are not utilizing these tools or implementing them consistently.
Your competitors may have similar products, services, and solutions that are viable substitutes for your offering; however, they don't have your unique personal and collective knowledge. Besides, competing firms are likely not leveraging their insights as effectively as you are or will.
Knowledge, above innovative features and benefits, is your intrinsic differentiator and driver of value in a competitive marketplace. Incidentally, 75% of decision-makers attribute their final choice to sign with a company based on the substance of the vendor's TL, while 70% determine your ability to deliver primarily based on your insights.
Inbound Content Opportunities
What are the most effective inbound content strategies for real estate executives and their enterprises?
The key to effective content that appeals to prospects and investors is offering answers and solutions to the questions and dilemmas they are facing.
For instance, if you're offering a SaaS solution to help commercial property owners and asset managers track and interpret large volumes of contract data across a portfolio, you can provide content that answers questions such as:
How does it simplify operations?
How will it help me provide enhanced value to my clients?
How does it reduce expenses?
How is the software implemented?
What type of equipment do I need?
Does the service run entirely in the cloud?
Are there self-hosting options for greater security and control?
Is the solution sustainable in economic, operational, and environmental terms?
Knowing that prospects are seeking answers, what are the best opportunities to connect with high-level prospects – decision-makers – in the real estate industry?
The most popular and highest-value content forms include:
Podcast
Blog posts
Contributor articles
Whitepapers
Informative and inspiring social videos
Live streaming video on LinkedIn, FB, and Instagram
These inbound content forms yield not only leads directly, but also additional media opportunities, including invites for guest/contributor spots on podcasts, blogs, and high domain authority (DA) industry publications.
What are the best channels to distribute your inbound content?
Your corporate website
LinkedIn (B2B)
Facebook and Instagram (B2C)
Podcast platforms
YouTube, Vimeo
High DA publications (Forbes, VentureBeat, Inc, Entrepreneur, etc.)
How do you leverage these channels to generate leads?
Supporting your content with video
Tagging of people, companies, and groups
Sharing to groups and pages
Partnering with competitors and affiliated firms
Paid or 'boosted' posts
Putting it into Action
How do you get started?
These strategies can be overwhelming to consider, but taking the first step is simple:
Create an outline of your ideal prospects' demographic and psychographic profile, needs, desires, and the questions they're asking.
Research what channels and platforms they're most active on and engage with them to understand their questions and language.
Create a content map of all the insights you can share and leverage this to create topic ideas – incorporate SEO research for relevance.
Start writing consistent content or enlist the help of content professionals.
Publish your content, support with video and imagery, and engage with your audience to build your following.
Have more questions? Please leave a comment or contact us directly.
/
https://creativerealestatecopy.com/wp-content/uploads/2020/06/Value-Add-Inbound-Content-for-Brand-Positioning-in-the-Real-Estate-Industry.jpg
450
810
Kirky Galt
https://creativerealestatecopy.com/wp-content/uploads/2020/08/crec-logo-gray.svg
Kirky Galt
2020-05-31 11:04:04
2020-06-05 01:00:48
Value-Add Inbound Content for Brand Positioning in Real Estate