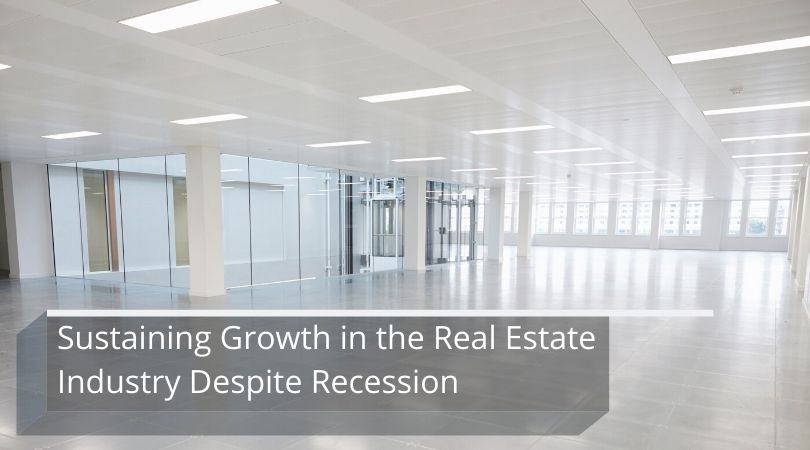 If we weren't certain before about an impending recession, we're all pretty sure that it's here now. The COVID-19 crisis and Congress's response with the prompt passage of the CARES Act have quasi-officially welcomed the recession.
What does the recession mean for continued growth in the real estate industry?
It's time for a renewed commitment to our marketing.
My intention with this statement is not self-serving. As a marketing firm, we too, make sure that consistent and thoughtful marketing is even more a priority than usual.
Rather than drawing back the budget to 'conserve,' we need to generate consistent, quality thought leadership and public relations content to keep our message prominent in the minds of ideal prospects and our stakeholders.
Let's talk about some of the critical considerations for growth in a down market.
Volatile Demand
We can assume that a recession will mean fewer prospects and reduced conversions, though this may not be the case for every niche.
As we proceed, we'll find a greater share of motivated commercial and residential sellers due to falling and stagnant values, deferred rents, loss of jobs, and declining incomes.
Indeed, many parts of the industry will experience restriction as demand for commercial and retail space is held back by lockdowns and the consequent shift toward remote work and online retail.
Multi-family will continue to do well, but increasing demand will mean an expanding market that must be addressed with your message.
The Fed's move toward zero range rates is excellent for short-term refinance and purchase volume, as well as reducing the cost of financing for development; however, construction financing is typically figured on the 10-year Treasury, which moves independently of the Fed Funds Rate and recently increased 25 basis points – the impact on commercial development may be negligible.
What's the answer to achieve sustained growth?
What Drives Your Growth?
Diligent and thoughtful marketing.
All other factors aside, thought leadership positions your firm for sustained long-term growth most efficiently.
The most refined and advanced processes and technology may drive your value chain and core competencies; however, they will generate little bottom-line returns unless the public is aware of your ongoing strength and presence. The need for public awareness is essential regardless of the pandemic and resultant market volatility.
When businesses and consumers receive their aid as part of the economic relief package, and the crisis passes, you need to be properly positioned as the best choice for their expenditures – those which will be made judiciously.
Investing in Increasing Returns
I'm not suggesting that you blindly throw funds into marketing during the recession. Veritably, this is the time to be most judicious – though not conservative – with your marketing budget.
For the best results and efficiency in utilizing your budget, focus on marketing strategies and channels that yield escalating rates of results and returns as you consistently apply them. Some methods don't behave in this fashion. Examples of predominantly linear result generating strategies include pay-per-click, direct mail, and paid social media.
Stated in other words: once you stop paying, the results subside; you only get out what you put in. Conventionally, that may make sense; however, digital thought leadership marketing, in particular, creates results that compound over time with consistency.
Consistent marketing via thought leadership to your website, social channels, and the media, effectively position your brand and build trust – vital during times of volatility when B2B and B2C consumers raise the question of solvency and longevity concerning the firms they patronize loyally.
Flourish in a Down Market
The message of this article is straightforward: flourish in a down market by placing emphasis on building marketing systems and messages that deliver increasing returns at lower cumulative expense than traditional methods.
While quality content is expensive, it's worth it compared to the hundreds of thousands that can be easily spent away on messages that don't stick or provide real value to your market.
/
https://creativerealestatecopy.com/wp-content/uploads/2020/03/Sustaining-Growth-in-the-Real-Estate-Industry-Despite-Recession.jpg
450
810
website_guru
https://creativerealestatecopy.com/wp-content/uploads/2020/08/crec-logo-gray.svg
website_guru
2020-03-31 18:43:17
2020-05-29 17:59:29
Sustaining Growth in the Real Estate Industry Despite Recession