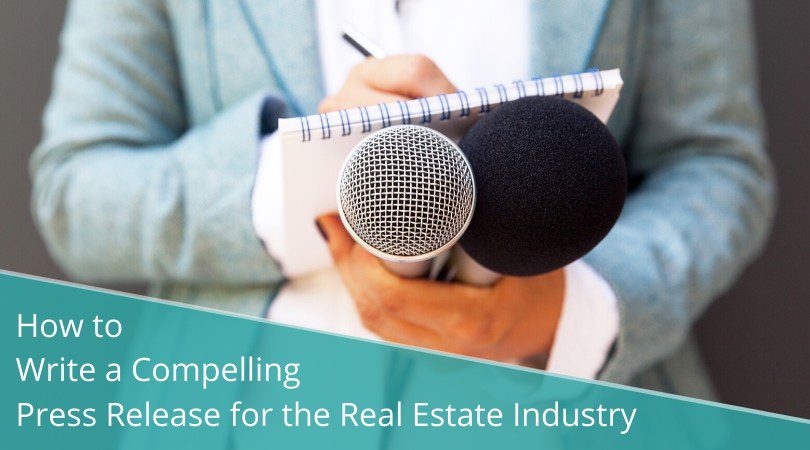 The press release remains a relevant and useful tool in public relations campaigns for real estate industry firms. A well-written press release that appeals to journalists tells your company's story and establishes credibility.
In this quick article, we'll share our most salient tips to prepare or proof a top-notch press release for your real estate industry business.
Crafting a Compelling Angle
The core of your release is a captivating story that quickly informs the reader and sets the stage for your announcement.
You likely already have a topic or announcement in mind, so let's consider how to evaluate and approach the subject for the most interest to editors, journalists, and readers.
Aspects/angles centered on your subject:
Social relevance-Impact on community
Environmental relevance
Economic impact
Inspirational startup story or case study
Innovation in process, operations, technology, design, recruiting, etc.
If you already have a topic in mind, consider what your announcement will mean for the community or industry and gear your subject matter to their interests.
Formatting Best Practices
Following best formatting practices helps your release get read and considered. For the real estate industry, in particular, it's essential to customize any content we distribute to the tastes and preferences of our market and associated media outlets – it's a sophisticated crowd.
Depending on how and whom you submit the release to, there may be specific formatting guidelines and specifications:
Cover all material angles, benefits, 5Ws, etc.
Single space between sentences and justify body text.
Times New Roman in 11 or 12-point font.
Use Oxford (serial) comma.
Journalistic and objective tone.
Avoid self-serving biases.
Limit promotional language.
Utilize third-person voice (no personal pronouns, e.g., 'I' or 'you.')
Small and concise paragraphs logically arranged.
Avoid clichés, slang, and colloquialisms.
Only include 'about' at end if details are not included in body of the press release.
Hire a professional public relations writer for efficient and reliable results.
Please click here for the CREC real estate press release template.
Writing an Attention-Grabbing Title and Subtitle
The press release title is an opportunity to capture attention and inform the potential reader of the purpose and relevance of your release. Your title also provides the basis for a click-worthy email pitch subject line.
Title/headline and subheading example:
San Diego-Based VC Firm Negotiates $175M Acquisition of Vacant Downtown Retail Development
Renovation Project to Promote Local Small Business Revenue and Employment Growth
If we break down our example here based on the 5Ws, we'll see why it's a compelling title and subheading combination:
Who: San Diego-based VC Firm
What: Negotiates High-Value Acquisition, Retail Development
When: Recency implied. Include month when material.
Where: San Diego Downtown
Why: Renovation to promote small business and job growth.
The title immediately conveys the contents and angle of the story and allows the reader to decide if it's worth clicking on and reading. If you're stumped on what to do for a title, create bullets as we did above for each of the 5Ws and use them as building blocks for your heading.
Capture Attention and Address the 5Ws Upfront
Once your prospect opens your email, takes in your title, and starts reading, they'll want to get to the point right away.
Unlike a traditional article or essay, your introduction must provide the basic facts and why the matter is relevant for stakeholders. Don't start with quotes or witty story-based introductions; these will annoy journalists focused on fact.
To draw in the reader most effectively, respect their intelligence and write for a professional and educated audience (this includes residential prospects). As you proof your press release, diligently eliminate all content that is not relevant to your topic.
Use a critical eye and analyze every statement to ensure that it is extremely concise, pertinent, and the meaning is clear. Keep your content bounce rate low by avoiding using culturally-specific language – sports references for instance – that will confuse and derail diverse readers.
Effectively Incorporate Quotes
Quotes are essential elements of demonstrating the personal nature of the release and telling the story through the eyes of stakeholders.
To craft insightful and relevant quotes for your release, take in all the content gathered from the teams involved, and look for statements that express the character of the firm's or project's leadership. Quotes are the only appropriate place in the press release to allow slang or vernacular language, though it should be edited to reflect best on your sources.
You have some leeway to copyedit quotes – provided the intent and substance remains the same – to make them more specific, purposeful, and connected to the narrative of your piece.
If you don't have direct quotes, look for opportunities to rewrite or create new quotes that express the sentiments behind the project and support the premise in a novel and memorable way.
Alternatively, you can request quotes directly from the parties involved, including corporate staff, investors, public officials, consumers, and relevant industry experts that will lend substantial depth to the thread.
If needed, seek assistance with preparing an accompanying pitch for your press release that will impress journalists and acquire media opportunities.
Get it Out There
For the best results, work with professional writers and publicists that know your industry media and consumers.
Expert PR writing and distribution teams ensure the quality and efficacy of your public relations campaigns. Leverage the advice here to proof your press release, whether you write it in-house, or partner with marketing professionals.
/
https://creativerealestatecopy.com/wp-content/uploads/2019/11/PressReleaseforRealEstate.jpg
450
810
Kirky Galt
https://creativerealestatecopy.com/wp-content/uploads/2020/08/crec-logo-gray.svg
Kirky Galt
2019-12-04 21:51:15
2020-05-29 18:03:29
How to Write a Compelling Press Release for the Real Estate Industry