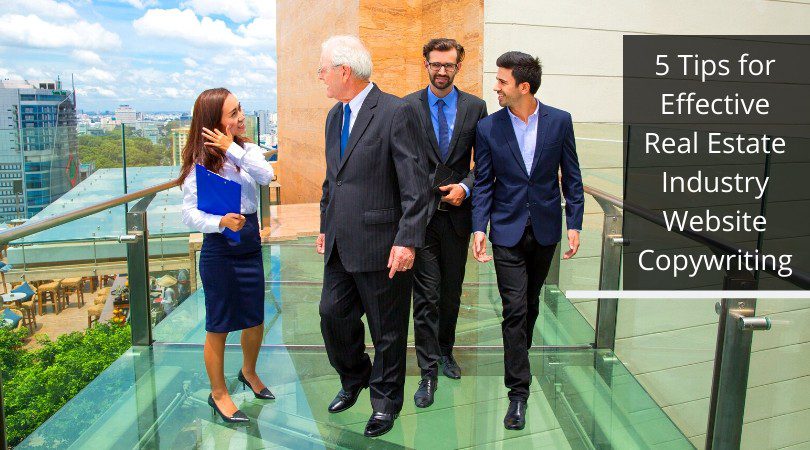 There's no more significant contributor to the success of your website than informative, credible, and logical copywriting. While a picture paints a thousand words, it's challenging to deliver a clear message based on images solely.
In this article, we address the best advice and practices for real estate copywriting for your website that sets a positive tone for successful interactions with your prospects – and more closings.
1. Hire a Specialist in Real Estate and a Dedicated Copywriting Agency
As you're likely a specialist in your field, I'm sure the point here is apparent: choose a writer – as you would any other modern professional – based on their expertise as it relates to your industry and niche.
In this case, we're talking about the real estate industry: the complexity of the real estate field in terms of technical, financial, regulatory, and other types of knowledge, provides good evidence for the need of vendors that have specific experience and insight.
An agency centered on direct response copywriting provides superior copy compared to a generalist marketing agency, especially one that doesn't focus exclusively on real estate industry products and services.
2. Employ Proper Grammar
Professional quality grammar is essential. The key is to express your message concisely using the appropriate grammatical structures for your language. Minor variations in punctuation attributable to vernacular usage and creative license in design won't negatively impact your marketing.
However, content with poor syntax, misspellings, and passive voice pushes educated website visitors to bounce (make a fast exit) quickly. Technically strong professional and scholastic writing requires at least a bachelor's or graduate-level education – expect to pay professional rates for educated writers capable of writing in active voice.
3. Focus on SEO and Site Speed Optimization
SEO optimized copywriting is an essential part of your online marketing strategy. The structure of your website and the words used to compose the content capture search engine and user attention.
Properly optimized sites perform better in SERPs and provide an enhanced user experience. Keyword and SEO optimization naturally make your content clearer, concise, and more focused on the specific prospects and results you're seeking.
Speed optimization is also critical. Your site should load entirely in less than 4 seconds. Much longer than this and you'll exceed the patience – and lose the respect – of users and search engines. Even websites with otherwise perfect optimization and high domain authority (DA) are penalized in ranking due to slow site loading.
Here are some areas where you have opportunities to optimize your site structure and content for best SEO performance:
Optimized page meta title, keywords, and description with CTA for search engine users.
One H1 heading per page that includes primary keywords.
Include relevant keywords in Alt image tags and file names.
Target an organic keyword density of 0.5-3%.
Write for relevance based on Latent Semantic Index (LSI) keywords.
Include keyword variations in most headings.
Avoid all black-hat SEO techniques – keyword stuffing, link schemes, et al. – or get penalized by search engines.
Keep it running fast by:
Hosting your website on a dedicated server.
Use server caching to store images of pages for faster loading.
Optimize, scale, and compress images to reduce loading time.
Use a content distribution network (CDN) to reduce server load and speed up response times.
Minify CSS and JavaScript.
4. Compelling and Subtle CTAs Interwoven
The most practical way to get someone – anyone – to do anything, is to ask. Even if your copy meets all the conventional criteria (e.g., catching attention, informing, generating desire, and driving action), it will fall short in conversions if you don't specifically ask the prospect to take an action and let them know how to do it.
As vital as the CTA (call to action) is, its tactful delivery is as crucial as its inclusion.
A respectful, informational, personal, and confident tone inspires a like-kind response.
The CTA is most effective when the message – the benefit and the action you desire ­– is interwoven into the thesis, narrative, and conclusion of the piece, whether it be long or short-form; blog or email.
By the time the prospect has finished reading your piece, it should be obvious why to select your solution and what to do next – if your message is clear and what you offer meets their needs.
5. Focus on Usability and Trust
It looks great, loads fast, and expresses a compelling message, but nobody calls, clicks, or opts-in! What's the issue?
It may be that your website is difficult or unpleasant for prospects to use and read. Building trust – an essential factor in conversion – necessitates a customer-centric user experience and transparent, easy-to-process marketing materials.
Optimize for mobile browsers.
Leave plenty of white (negative) space for an open and modern look that's easy on the eye.
Use larger fonts and focus on a concise message that commands attention and encourages retention.
Extraneous content increases bounce rates and obscures your message.
Respect your audience's intelligence. Tailor your tone and delivery appropriately.
Do not use cliché sales writing techniques or formatting.
Moderate and minimize the use of colloquialisms, slang, and industry jargon according to the audience (e.g., B2B vs B2C, local vs regional, and demo/psychographics).
Avoid excessive use of Bold, Italics, Red, and other colors.
Present all content as business correspondence and informational prose rather than marketing materials.
Present your information logically and allow the reader to draw the sensible conclusion, i.e., don't tell them you're 'the best,' show them through your insight and professional web presence.
Use a friendly, personal, and professional tone.
Avoid demanding, condescending, insulting, demeaning, derogatory, and any other socially or culturally insensitive language.
Keep your message objective. Don't offend your prospect with subjective or personal statements.
Understand your audience. Focus on speaking directly to prospect needs and eliminate all content that doesn't support and harmonize with that message.
Pulling the Project Together
How else can you optimize the website design and copywriting process?
By working with marketing professionals with an active approach to project management and campaign implementation: those with whom you can communicate efficiently, professionally, and rely on to push toward milestones.
Collaborate with specialists that deliver the most experience, value, and results. Rely on educated writers that know your industry and have professional active-voice writing skills. To ensure that your new or existing site receives traffic from relevant prospects, optimize your copy and site structure for high-traffic keywords and topics.
Don't forget about site speed, or your site will get left behind – literally. And, get what you want by establishing yourself and your firm as credible experts and then asking your prospect to take action, with clear directions. Furthermore, save your prospects' time and nerves by offering simple navigation, appealing design, and easy to absorb content.
Take these tips and apply them to build a more effective website in less time.
/
https://creativerealestatecopy.com/wp-content/uploads/2019/10/5-Tips-for-Effective-Real-Estate-Industry-Website-Copywriting.jpg
450
810
Kirky Galt
https://creativerealestatecopy.com/wp-content/uploads/2020/08/crec-logo-gray.svg
Kirky Galt
2019-10-29 07:00:55
2020-05-29 18:04:39
5 Tips for Effective Real Estate Industry Website Copywriting